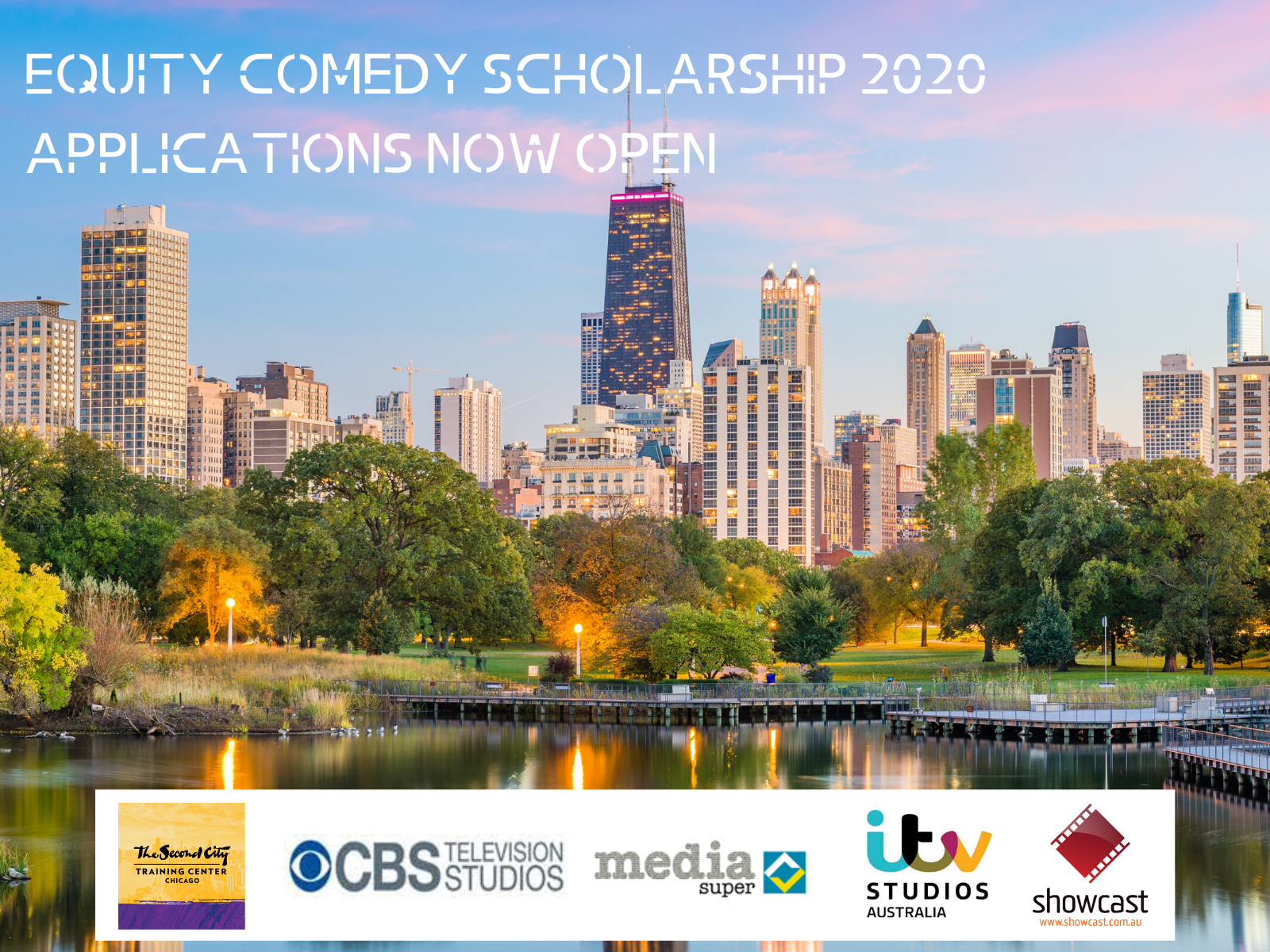 Are you a performer with an interest or speciality in comedy?
The Equity Foundation is thrilled to announce a new international scholarship opportunity for Equity members looking to further their comedic performance skills.
COVID-19 UPDATE: The Equity Foundation's inaugural Comedy Scholarship is still accepting applications until April 19. Our independent industry judging panel will still assess applications and we will announce the winner as planned. If COVID-19 travel bans remain in place we will ensure the winner is given an opportunity to attend the Second City and LA when it is safe to do so at a time mutually agreed between the winner, Second City and CBS TV. 
With thanks to our friends at The Second City, CBS Television Studios, ITV Studios Australia, Media Super and Showcast, we're giving one lucky performer the chance to spend 8-12 weeks at The Second City in Chicago, one of the most prestigious comedy schools in the world, and one week with the CBS Television Studios team in Los Angeles, to meet with casting and comedy development executives and attend live comedy tapings and table reads.
The winner will also receive $AU20,000 to assist with their travel, accommodation and expenses.
The Second City opened its doors in Chicago as a small cabaret theatre nearly 60 years ago and has since become the world's premier name in improv-based sketch comedy and education. Second City alumni includes John Belushi, Steve Carell, John Candy, Stephen Colbert, Chris Farley, Tina Fey, Bill Murray, Mike Myers, Joan Rivers, Martin Short, and Fred Willard.
The Second City's managing director Rosie Chevalier says; "How thrilling to get to bring in a promising artist from across the world to spend the summer learning and growing with us. We can't wait! We're looking for students who are ready to learn our art form and dive into life without a script (or at least, life where the script is built by the students and not someone else). We're open to folks who have improv or comedy experience, but we'd also be happy to have a student who's starting from the beginning. You don't have to worry about being funny; you only have to worry about being brave and committed. Whatever your background, we want to help you make the best possible use of your skills and point of view – don't be afraid to let us really see who you are in your audition."
CBS TV Studios currently produces over 70 live action and animated comedy and drama series on 14 different broadcast, cable and streaming platforms including CBS, CBS All Access, Showtime, CW, Starz, Pop, Disney+, Apple, Quibi and Netflix. CBS TV Studios' senior vice president of talent and casting, Matt Skrobalak, says: "New Zealand and Australia have an amazing track record of producing unique comedy voices and performers like Taika Waititi, Chris Lilley, Rebel Wilson, Flight of the Conchords and Madeleine Sami to name just a few. CBS TV Studios is excited and proud to be partnering with the Equity Foundation and the Second City to discover, cultivate and promote the next great comedy talent."
CEO & managing director of ITV Studios Australia, David Mott, says ITV is also delighted to sponsor and support this Equity initiative; "What a wonderful opportunity for up and coming comedy artists to craft their skills at prestigious comedy school, The Second City. ITV Studios Australia, upon the return of the lucky recipient, will work with our talented creative teams here in developing comedy work for the Australian market."
THE SCHOLARSHIP
-The Scholarship will take place in July/August 2020 in Chicago and Los Angeles.
-The winner will have opportunity attend intensives at The Second City for 8-12 weeks, focusing on topics such as improvisation, writing, stand-up, and other areas of comedy and improv.
-Final class topics and scholarship schedule to be mutually agreed upon by The Second City and the winner.
-The winner will then spend five days in Los Angeles with the CBS Television Studios team. This will include meetings with CBS TV Studios casting and comedy development executives.
-In Los Angeles the winner will attend a live multi-camera comedy taping at the CBS TV Studios, as well as the table read, run through and taping of the Late Late Show with James Corden.
-Upon return to Australia the winner will work with ITV Studios creative teams in developing comedy work for the Australian market.
-The winner will receive $AU20,000 towards their flight, accommodation and expenses.
-The winner will be responsible for all travel, accommodation and incidental expenses.
APPLICATIONS
-Open to all Australian and New Zealand performers with an interest or speciality in comedy.
-Applicants must be aged over 19 years and must be a financial member of Equity Australia or Equity New Zealand.
-Applications will be assessed by representatives from The Second City, CBS TV Studios and two leading Australian comedic performers.
-Performers will apply via Showcast with a SELF TEST, BIO, HEADSHOT, & SHOWREEL.
SELF TEST
-Self-Test Video of a self-devised character/song/monologue/piece OR an existing comedic piece of the applicant's choosing (Video to be one-two minutes in length).
-Original content encouraged.
-Only use an accent if essential to your piece. Judges would rather hear your natural voice.
-Please start the video by introducing yourself and saying something brief about why you want to attend The Second City in your natural accent ( no longer than one minute).
-Please only submit ONE final video of up to 3 minutes maximum in length.
BIO, HEADSHOT, & SHOWREEL
-Applicants also required to submit a link to their most recent head shot and bio and showreel (if available).
Applications close Sunday April 19 at 6pm AEST.