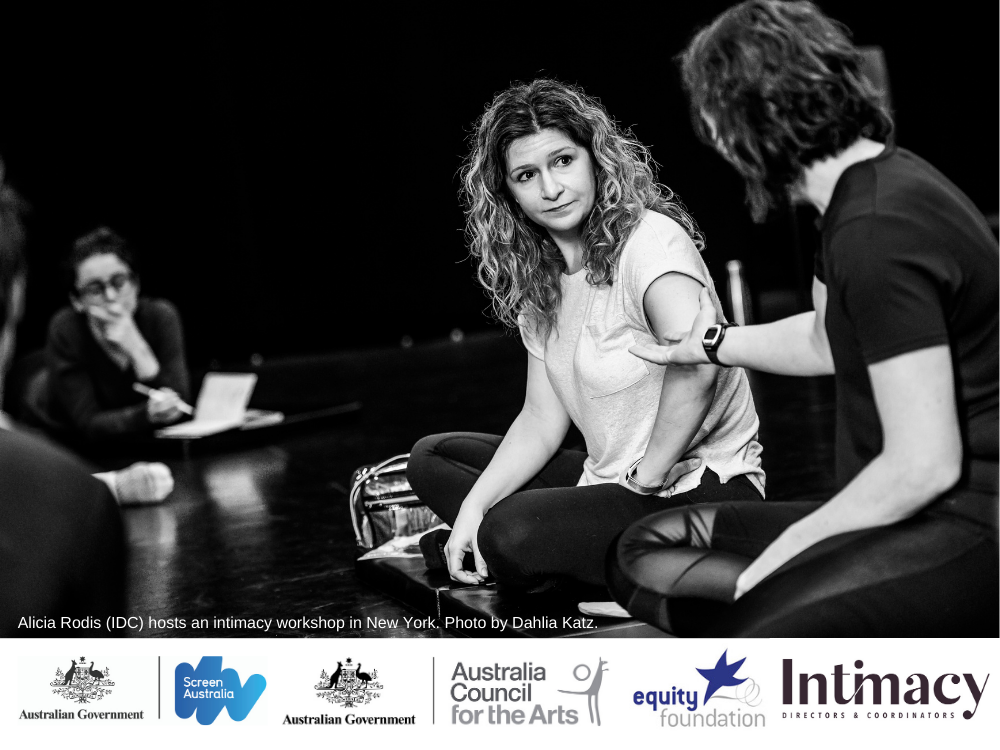 The Equity Foundation is thrilled to offer eight scholarships to participate in rigorous online intimacy coordinator and intimacy director training with Intimacy Directors and Coordinators (IDC), the leading organisation for Intimacy Professionals in the entertainment industries. Intimacy Professionals are performer advocates and movement designers that improve the artistry and experience for all during the production of intimate scenes.
IDC will provide three levels of specialised online training based on their current intimacy professional training program in the USA. This training will take place online once a week on Sunday mornings (AUS/NZ time) for 2-3 hours over the course of five months; June – September 2021. Participants need to commit to attending all classes. Once completed, the five participants will be granted a certificate of completion of online training from IDC and will be given virtual support on their first job post completion of the training in either intimacy direction or intimacy coordination.
This training program is valued at $US 7,000 per person.
The Equity Intimacy Scholarship program is proudly supported by Screen Australia, Australia Council for the Arts and Intimacy Directors and Coordinators (IDC).
TRAINING PROGRAM OVERVIEW
The IDC virtual intimacy training program consists of a 15-week program (June – September 2021) split into three levels with one week off for both participants and instructors after Levels 1 and 2, for a total of a 17-week commitment.
Level 1
Duration: 4-weeks
This workshop is an introduction to the foundational ideas and concepts that shape IDC's approach to intimacy. This course meets live on a video call once a week for 3-hours over four weeks. In addition to the live sessions, participants will also have access to an online classroom for further discussions, readings, resources, and homework assignments in between live sessions. This course is designed to be taken synchronously, meaning you will be working at the same pace as the rest of the class.
Level 2
Duration: 5-weeks
Participants will take a deep dive into the complexities of consent and power dynamics, advocacy, and communication. This course marries theory with deep self-reflection and critical thinking. An Intimacy Professional carries enormous responsibility within a creative process, and this course aims to prepare the student to fulfil those responsibilities while minimizing harm. This workshop meets on video conferences once a week for 2-hours over 5-weeks. Live video sessions will be a combination of lecture and discussion. The course has an online classroom that will contain useful resources, reading assignments, and opportunities for further reflection and discussion.
Level 3
Duration: 6-weeks
Level 3 training delves into the specific hands-on details of what exactly it takes to be an excellent Intimacy Director or Intimacy Coordinator. This covers all the best practices and protocols needed to begin working with support. Participants will be learning from our top professionals who are currently working in the industry to create industry-wide standards. They will cover choreography and masking, navigating relationship dynamics, celebrity power dynamics, contract negotiations, actor/director calls, barriers, and the nuances between working on both stage and screen. Participants are expected to have prior knowledge of both working environments (stage and screen). This level meets for 3-hours over six weeks synchronously via video conference. There is also a Google Classroom for all course information. Each week participants will be asked to complete assignments. This may include outside online or in-person courses, quizzes, or applying the topics discussed.
Mentorship in Field Work 
Timeline: October 2021 – December 2021
Participants will receive individual mentorship for their first project upon completion of the virtual program. Participants will submit the details of the project and be paired with a mentor offering up to 10 hours of calls or emails to support the trainee through their first project. Participants can use this time for any project prior to January 1, 2022.
FREQUENTLY ASKED QUESTIONS
How often will the training taking place?
This training will take place once a week on Sunday mornings (Aus/NZ time) for a period of 2-3 hours over the course of five months. It is designed to be accessible for someone working full-time.
How many people will be attending the training?
This training will be capped at 8 people in total from Australia and NZ.
What is the difference between an Intimacy Co-ordinator and an Intimacy Director?
"Intimacy Director" is the designation we give to professionals who are trained in our protocols for theatre and live performance. "Intimacy Coordinator" is the designation we give to professionals who are trained in our protocols for tv and film.
What background do you need to become an IC?
Intimacy Coordinators and Directors come from a variety of different backgrounds. The most successful candidates have had prior experience in the entertainment industry. It is assumed that anyone pursuing intimacy direction or coordination understands how the industry operates as a whole. Training in movement, acting, mental health first aid, and human sexualities is highly encouraged along with prior experience within the entertainment industry (tv, film, live performance, or all three).
Do you have to be an actor or movement director? Can I be a producer? Or a director?
Certainly. An intimacy director or coordinator can be coming from a producing, directing, or performing background, among others.
What is a Certificate of Completion and what can I do with it?
This simply states that you have completed and passed the online portion of the IDC training for intimacy direction and coordination. The certificate of completion offers a baseline awareness of the training you have received and completed. This does not mean you are certified as an IDC intimacy professional, but can be added to your resume to indicate the level of your training.
How much more training do I need to do before I become accredited?
In order to be accredited, you would need to attend and pass in-person training with IDC. Due to Covid, there is no in person level three training planned in Australia at this time. In order to complete that, you would most likely need to come to the US. You can find more information on the pathway to certification here. If there was enough interest to run an accreditation program in Australia/NZ IDC would look into sending a team once COVID restrictions uplifted.
What additional costs are associated with extra training?
Additional costs for being accredited would include your travel and lodging costs attending an in person Level 3 training in the US for IDC. You can find more about that here.
Do you think intimacy training will be added to acting school training?
Absolutely. This is already becoming a common practice in the US for acting school training, and as the intimacy movement grows, I believe it will continue to flourish in educational settings.
How will the scholarships you are offering be structured and delivered virtually?
The scholarships only covers online training. You will not be required to pay for the online training with IDC. Funds will not be distributed to individuals.
As a recent graduate who specialised in directing and had a really positive experience using the intimacy guidelines for my final project, what would be your advice for pursuing an intimacy coordinator role fresh out of film school?
My suggestion would be to work in the industry a minimum of 10 years to gain that experience before pursuing a career as an intimacy coordinator. During this time, engaging in additional movement training, anti-racism training, bystander intervention training, and human sexuality training can support a future pivot to intimacy coordination.
How much would a the 6-month training program with IDC cost if I'm unsuccessful for a scholarship?
The six month training would cost $7000 without a scholarship. It will not be possible to join this particular group as a paying trainee but please contact IDC directly to register interest in future classes.
When will I be contacted about my application?
Finalists will be contacted by the end of May and will have an interview with ICD. Unsuccessful applicants will be notified via email by the end of May.
Do I need to be an Equity member to apply?
No.
If you have any further queries please email info@equityfoundation.org.au 
APPLICATION PROCESS
Applicants are required to have a minimum of 10 years' experience in the Australian entertainment industry and provide industry references, a letter of intent and a curriculum vitae.
Participants will be selected by an independent judging panel from IDC.
The Equity Foundation recognises the diversity of the Australian performer community and seeks to encourage a more realistic representation of Australian society on our stages and screens. We strongly encourage applications from performers of varied experiences, perspectives, and circumstances including First Nations performers and all those from culturally and linguistically diverse backgrounds and performers with disabilities.
Applications have now closed.