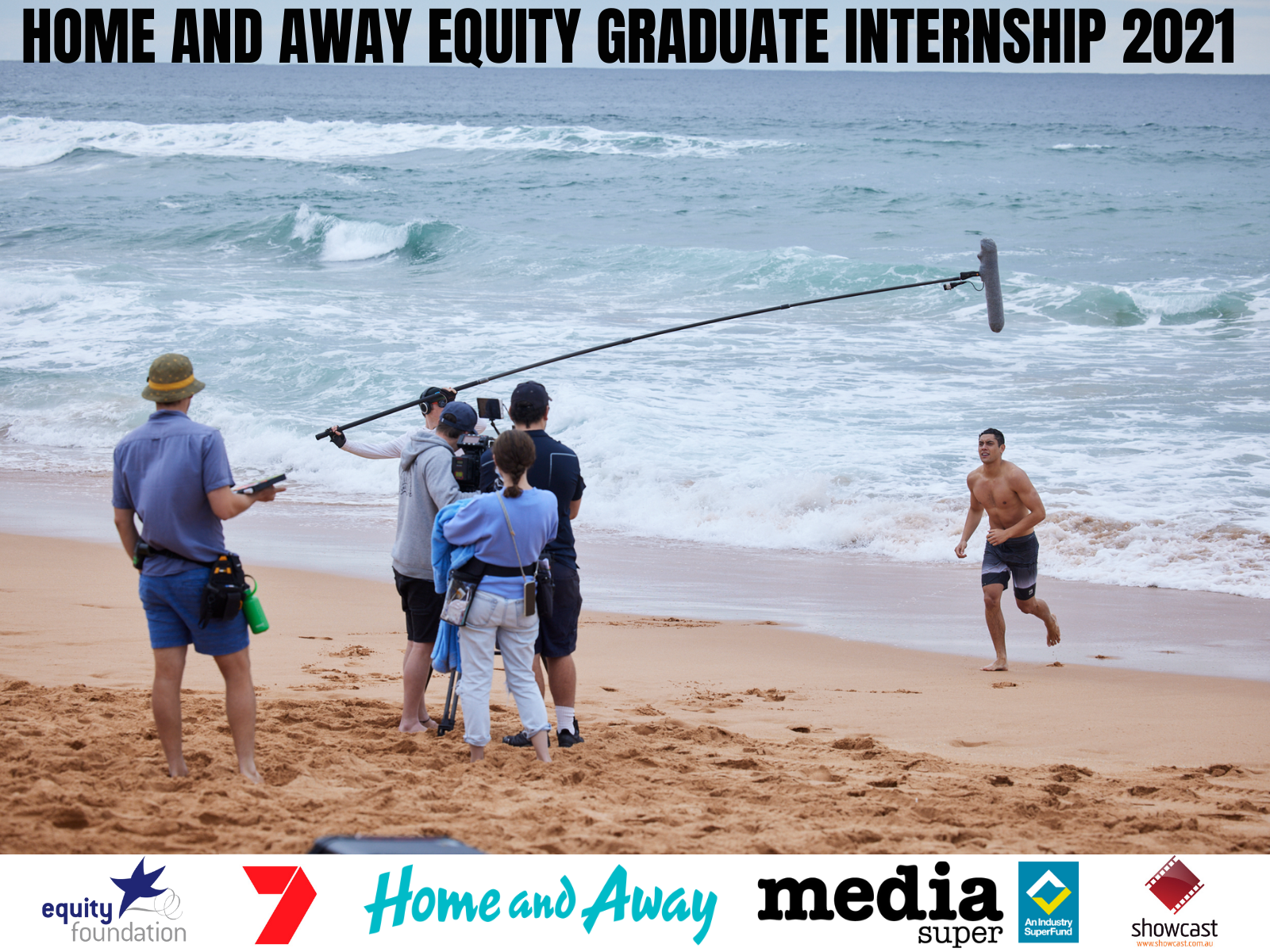 This year one lucky Equity member who recently graduated drama school will have the opportunity to gain on set work experience alongside the cast and crew of Home and Away.
The one-week internship will provide a unique opportunity to go behind-the-scenes of Australia's number one drama. The lucky Equity member will gain exposure to key aspects of television-making including casting, wardrobe, scheduling, script, art, make-up and editing departments.
Home and Away producer Lucy Addario says: "Home and Away is thrilled to partner with the Equity Foundation again in 2021 to support the careers of Australia's most exciting emerging talent. We look forward to offering rare experiences across the entire production process and insights behind the scenes on Australia's number one drama."
This is a paid internship thanks to the support of Media Super. CEO Tony Griffin says: "As the industry's own super fund, Media Super knows how important it is to continue to create opportunities for new talent. We're proud to support this internship, which will provide an emerging performer with the chance to learn at the coalface of one of Australia's most-seasoned TV dramas."
INTERNSHIP DETAILS
-The internship will be offered to a full-time drama student who completed their formal study at an accredited drama school in Australia or New Zealand in 2020 (or early 2021 as a result of COVID delaying a 2020 graduation).
-The successful applicant will be paid at the appropriate award rate. Accommodation and return flights to Sydney will be covered, if necessary, together with a small stipend each day.
-The winner would be expected to take up the internship in 2021 (COVID permitting) at a mutually agreed upon time with Seven Network.
-The intern will be required to complete a written article for The Equity Magazine and short video about their experience.
APPLICATION DETAILS
-To apply you must have graduated in 2020 (or early 2021 as a result of COVID delaying your 2020 graduation) and be a member of Equity New Zealand or MEAA Equity. To join click here or phone MEAA Member Central 1300 656 513.
-Applications open Thursday August 26, 2021 and close MIDNIGHT AEST Sunday September 26, 2021.
-Five finalists will be announced in late October and the winner will be announced in November 2021.
THE SELF-TEST
-To apply you will be required to submit a self test.
-On our Showcast portal you will find 3 scripts (and breakdowns).
-Applicants to choose ONE script and put forward only ONE test for consideration.
-Slate to begin with, name, age, agency, height (all examples)
-Slate to include side to front (actors physical profile)
-Auditionee can't wear clothes with logo.
-Test no longer than 10 mins.
-Make sure a camera phone is held correctly: horizontally with the camera facing up and not upside down.
-Making sure you watch the footage back for sound and picture quality (making sure the footage is working correctly).
APPLICATIONS HAVE NOW CLOSED.
The Equity Foundation thanks Media Super, Seven Network and Showcast for making this opportunity possible for student Equity members.