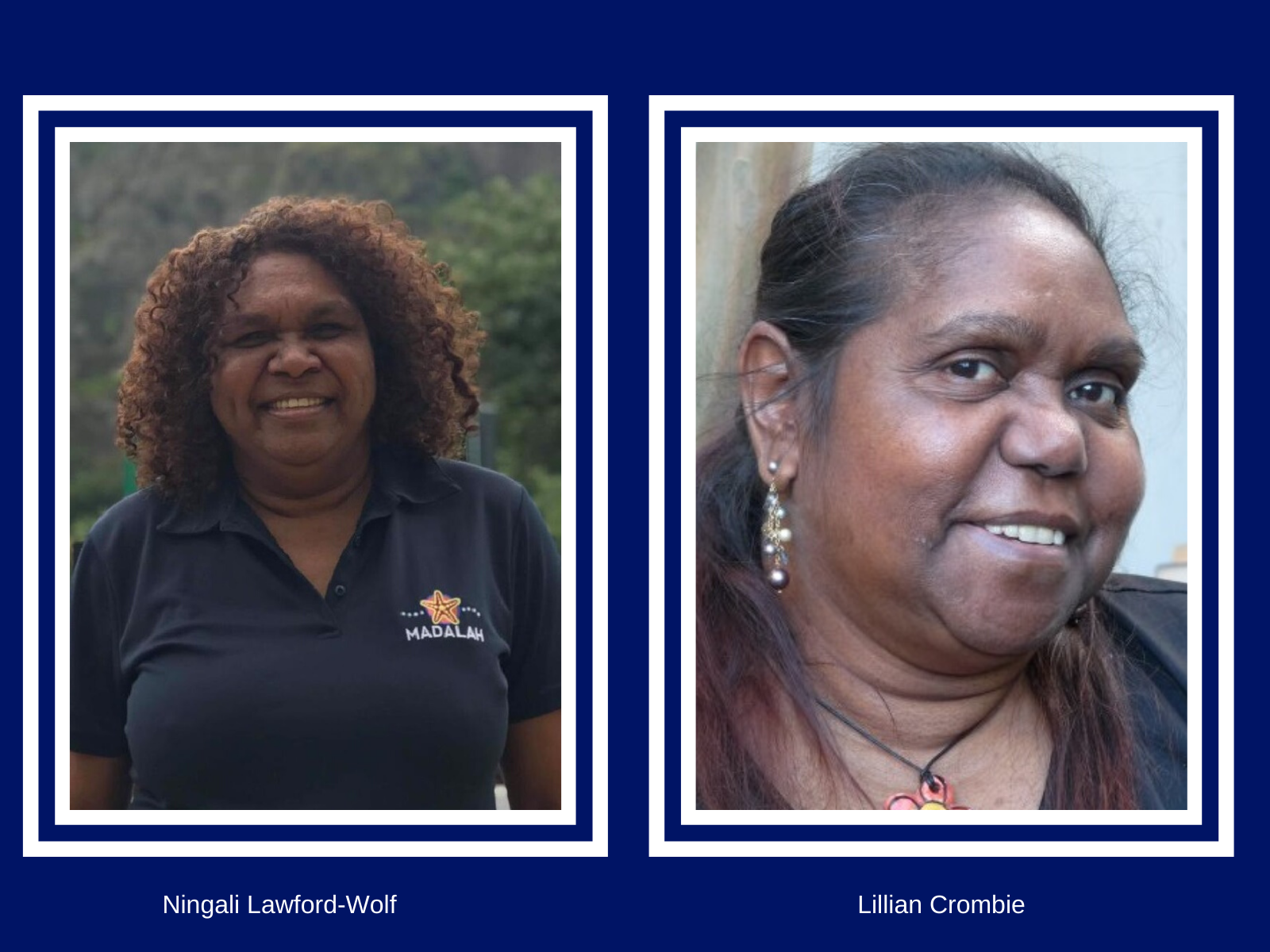 Indigenous performers Lillian Crombie and the late Ningali Lawford-Wolf have been voted joint recipients of the 10th annual Equity Lifetime Achievement Award, Presented by Foxtel.
Australian actor, writer and director Wayne Blair was among the 32 members of the Equity National Performers' Committee who selected Lillian and Ningali for this year's award.
"Their rich and varied careers have been observed by generations of First Nations performers coming behind them. They have led by example and paved the way for so many others to follow in their footsteps." says Blair.
A proud woman from the Pitjintjara/Yungkuntjara Nation, Lillian Crombie left Port Pirie South Australia as its best classical ballerina and landed in Sydney in the 1970s to dance her way into Black performance, politics and culture.
Her career as one of Australia's leading performers followed with roles in Baz Luhrmann's Australia, The Secret Life of Us, children's series Double Trouble and in many successful theatre productions including Belvoir's Conversations with The Dead and Black Mary and Riverside's Rainbow's End.
Australian playwright and artistic director Wesley Enoch describes Lillian as a pioneer of Australian Theatre who has paved the way for many Indigenous stories to be told.
"Her amazing comic timing is legendary. Who could ever resist the way she winks an eye and flashes her smile and has you laughing while she delivers a huge life lesson," says Enoch. "Working with Lillian is like a roller coaster where she has you guessing in the rehearsal room but when in front of an audience she never fails to capture hearts and minds."
"Lillian is considered by close friends and family a quiet achiever who has always lived humbly and dreamt big," says Blair. "She has survived a difficult past as a member of the Stolen Generation, embraced her legacy and forged a new one as an esteemed artist, a mother and grandmother, a supportive unionist and always a survivor."
Inspired by her own grief upon her brother's passing, she founded the Lillian Crombie Foundation to help Aboriginal and Torres Strait Islander people in financial hardship make one of the most important spiritual journeys of their life to travel home for the funerals of loved ones.
Lillian says she was "somewhat taken aback" when she found she was being honoured by her peers. "When it was a joint award with my sister Ningali Lawford-Wolf, I was emotional. I couldn't believe it. There is that spiritual bond with her and I'm glad to share the spotlight," says Lillian.
A Wangkatjungka woman from the Kimberley in Western Australia, Ningali Lawford-Wolf began her performance career as a dancer with Sydney's Aboriginal Islander Dance Theatre, before moving on to the Bangarra Dance Theatre and then forging a career as one of Australia's most acclaimed artists of stage and screen.
Ningali won awards for her one-woman theatre show Ningali, which portrayed through dance, song and satire her struggle to maintain her identity as an Aboriginal woman in mainstream Australia, as well as for productions of Aliwa, Uncle Vanya and Jandamarra. She was involved in the development of the Sydney Theatre Company's acclaimed production of The Secret River and Andrew Bovell's stage adaptation of Kate Grenville's novel of the Australian frontier wars.
Ningali was also well known for her significant film career including Rabbit-Proof Fence, Bran Nue Dae, and Last Cab to Darwin.
Offstage Ningali was a director of the Indigenous-owned Kimberley Agriculture and Pastoral Company, which took control of more than 700,000 hectares of cattle country earlier this year. She saw her role as a chance to improve opportunities for the Kimberley's traditional owners.
Ningali passed away on August 11 in Edinburgh, where she was touring with the Sydney Theatre Company.
"Her charm and curious mind were married to her outrageous sense of adventure and family," says Enoch. "She was a fearless champion, an excitable friend, a loyal advocate and an actor who transformed the landscape. I believe that Indigenous theatre is where it is today partly because of her contribution. She will be sadly missed and I send thanks to the spirits that we got to see her work and experience her life."
Equity President Chloe Dallimore says Ningali was one of the most talented and respected members of the performer family. "She was a community leader and advocate for the rights and interests of Indigenous people throughout Australia. Her loss has been felt widely and deeply by her peers".
Foxtel's Executive Director of Television Brian Walsh says Foxtel is proud to once again support Equity's Lifetime Achievement Award. "We sincerely congratulate this year's recipients Lillian Crombie and Ningali Lawford-Wolf. Through their work, both women have made an incredible contribution to both the arts and the Indigenous community. They have created a legacy that will continue to inspire future generations to strive and succeed".
Lillian and Ningali will be honoured at an Awards Ceremony in Adelaide in December. The Equity Foundation thanks Foxtel for their generous support of this award.
Ningali Lawford-Wolf's family have given permission for the use of her name and image in this article.