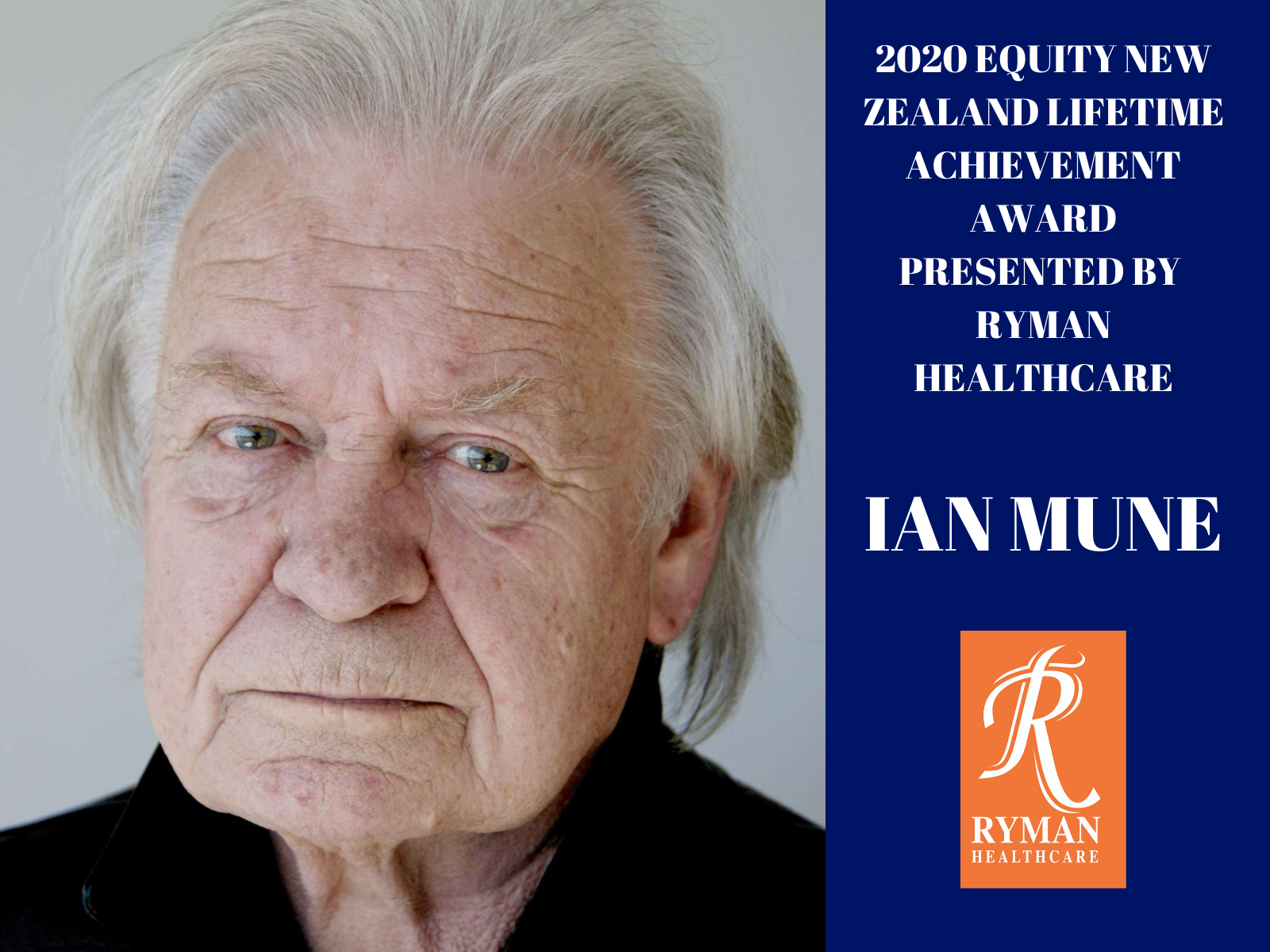 The Equity Foundation is thrilled to announce that New Zealand actor, producer, director and screenwriter Ian Mune is the recipient of the 2020 Equity New Zealand Lifetime Achievement Award, presented by Ryman Healthcare.
Ian, whose career spans six decades and more than 50 roles, was nominated for the award by New Zealand performers and selected by the board of Equity New Zealand.
"It gives me immense pleasure to see the prestigious Lifetime Achievement Award go to one of our most gifted and versatile storytellers," says Equity New Zealand President Jennifer Ward-Lealand.
"Ian has made a huge and lasting contribution to our industry with his impressively diverse career and has had a hand in some of our most celebrated, uniquely New Zealand stories. He has an extraordinary presence and a truly unique energy. He raises the bar of any production he is involved with. Ian embodies the professionalism we all aspire to."
Ian began his professional acting career as a founding member of Downstage Theatre in Wellington in 1964, spent two years with the Welsh Theatre Company and then became a member of the Mercury Theatre Company, where he also taught and directed.
Ian's screen debut was in pioneering drama series Pukemanu in 1971, an opportunity also to start developing his writing skills. His longtime collaboration with Roger Donaldson included Sleeping Dogs, regarded as one of the pivotal moments in New Zealand's cinematic renaissance. Ian co-wrote Goodbye Pork Pie, and his feature film directorial debut was another homegrown classic, 1985's Came A Hot Friday. Bringing The End of the Golden Weather to the big screen in 1991 was a major personal and public highlight. Ian stepped in at short notice to direct Once Were Warriors sequel What Becomes of the Broken Hearted? which won nine New Zealand Film Awards.
Ian says: "I am honoured. I know, that's a boring response, but it is how I feel, and I feel it reflects the fact that I chose early on to make Kiwi movies. I am a person of my time. There was no drama school, there was no path to a drama career, in fact it was regarded as a goofy idea. There were no Kiwi movies. I've spent a good deal of my career insisting that if we are true to ourselves we are more acceptable to the rest of the world, and doing work to please foreigners is just a way of throwing ourselves, our history, our sense of humour, our bi-multi-culturalism out the window."
Ian continues to mentor and inspire the next generation, and lend his inimitable presence to voice work, television, feature films and stage appearances. He was most recently seen on stage in Auckland Theatre Company's acclaimed production of The Master Builder in October.
"What I and my contemporaries did in our time, has paved the way for today's world with drama schools, self-generated dramas, young people who grow up thinking it's fine to have an ambition to be an actor, a film-maker, a story-teller. What better reward can there be than that."
Ryman Healthcare, New Zealand's largest retirement village operator, has supported the Equity Lifetime Achievement Award since its inception five years ago. Previous recipients include; Dame Kate Harcourt, Elizabeth McRae, Ken Blackburn, George Henare and Sam Neill.
Ryman Chief Executive Gordon MacLeod said he was delighted to see Ian honoured as the most recent recipient of the Lifetime Achievement Award. "Ian is an extraordinarily talented Kiwi has made a massive contribution to New Zealand film over a long period. Thank you Ian – you're a star."
Ian will be honoured at an award ceremony in Auckland in November.