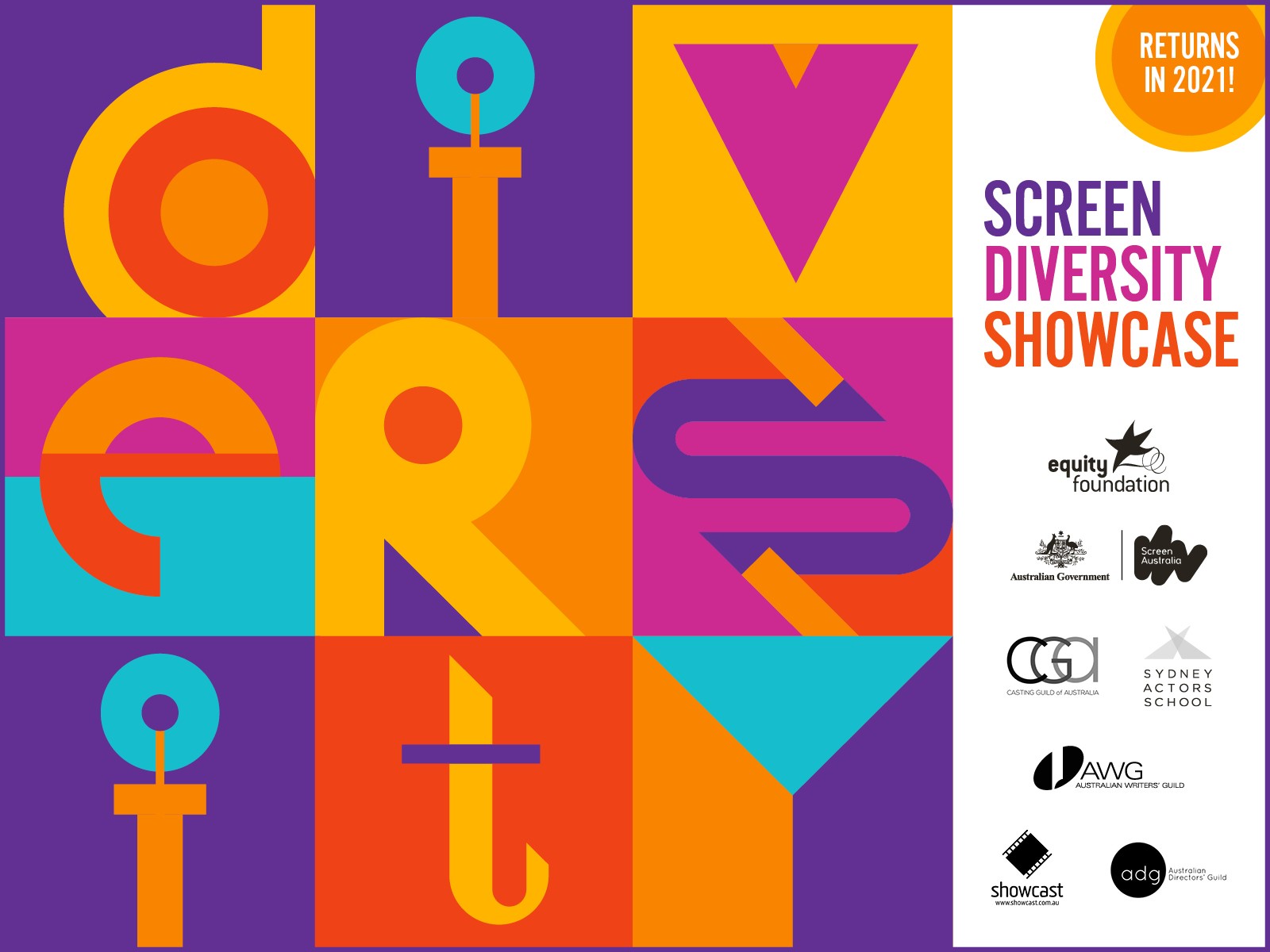 Good news! Application deadline extended to midnight Friday June 4.
This September the Equity Foundation, with major support from Screen Australia and our partners at the Australian Directors' Guild and Australian Writers' Guild, will host the second Screen Diversity Showcase in Sydney.
The Showcase will bring together five writers, five directors and ten performers from diverse backgrounds. The selected creatives will collaborate on five distinct projects, all to be filmed as five-minute proof of concepts.
The program will culminate with all participants being flown to Sydney (if required) to film and edit their projects, before exhibiting them at the Showcase event, attended by the key decision-makers in Australian television and film.
The Screen Diversity Showcase is a unique opportunity for artists to collaborate in an environment that celebrates authentic cultural storytelling and promotes industry talent still underrepresented on our screens.
HOW THE SHOWCASE WILL WORK

Over a three-month period (June – August) the writers, actors and directors will edit, develop and rehearse for their projects. The teams will collaborate online during this time. Throughout this period participants will also have professional mentorships with leading industry experts, as well as a series of live industry Q&A's with some of the industry's leading diverse creatives.
From late August to early September the Showcase participants will be flown in to Sydney to film and edit their projects, and then to exhibit these projects to the industry's key decision-makers.
The program is aimed at developing craft and networking skills, establishing career-advancing opportunities, and promoting a platform for diverse voices.
FREQUENTLY ASKED QUESTIONS
How do I apply?
Please visit the Showcast application portals. Applicants have the option of applying through the open casting call which will consider all applicants for all roles, or to audition for a specific role.
Can I audition for more than one role?
If applying for a specific role, entrants are welcome to audition for as many roles as they'd like. Otherwise feel free to use the open casting call option.
What if I don't think I fit any of the roles?
The character descriptions are to be used as a guide for the casting process, as the Diversity Showcase program emphasises flexibility. If you are unsure about the specific roles and your suitability for them, please use the open casting call option.
Do I need to be a MEAA/Equity member to apply?
The Diversity Showcases is open to members and non-members.
Can I apply if I am based in NZ?
As this program is funded by Australian funding bodies you must be based in Australia to apply for this program.
Who constitutes as diverse?
The Equity Foundation and the Diversity Showcase apply Screen Australia's definition of diversity in the screen industry. Diversity in this sense refers to artists who identify as First Nations (Aboriginal or Torres Strait Islander), LGBTIQA+, culturally or linguistically diverse, and disabled.
What level of experience do I need to enter?
Whilst the Diversity Showcase is designed to identify and support emerging artists we encourage all performers with all levels of experience to apply.
When will I know if my application has been successful or not?
Applications will be open until midnight Friday 4th June, after which point we shall begin shortlisting the entries. Entrants will be notified about whether or not they were shortlisted, with a final decision expected to be locked in by mid-June.
Who will be judging the applications?
The selection process will be conducted by a cohort of casting directors and actors, in tandem with each project's writer and director.
What are the different roles?
The Showcase is comprised of five different projects, each a two-hander with two roles available. You can download a script and upload a self test through the Showcase portal for a specific role.
What is the difference between auditioning for a specific role and auditioning through the open casting call?
Whilst we originally intended auditioning to be conducted solely through the specific roles, we have received feedback that the process has been too prescriptive. Applicants may still audition for a specific role if they wish, the open casting call is an alternative method of applying for those unsure about their suitability for the specific roles. Please note that all applicants will be reviewed in the same system by the same selectors, and with the same program benefits on offer.
APPLICATION PROCESS
To apply please select either the open casting call or if you prefer, you can still audition for a specific role from one of the following five projects written by the Showcase writers.
When you visit the Showcast link you will be required to download a script and upload a self test.
You are welcome to also audition for a different role within a different production but will need to do separate application form/audition for each.
Please see our FAQS for selecting a role/production.
Please note: although the characters stipulated may be diverse-specific we encourage all artists from a diverse or disabled background to apply for any of the roles stipulated.
OPEN CASTING CALL
All performers are encouraged to submit an entry to the open casting call, judges will be taking all auditions into consideration for all the roles available in the Diversity Showcase. Applicants will submit a self-test tape of up to five minutes in length, including a chat to camera and a two-hander audition from a script of your choosing. Shortlisted applicants will then be required to submit a second self-test for a specific role, with scripts provided.
APPLY HERE 
PRODUCTION 1: Small World by Anna Miers
A coming-of-age romantic comedy. Exploring the small everyday events that can evoke feelings of gender dysphoria, as well as euphoria, and the effects of friends and family.
· Riley: trans male, 20's. Alternative/e-boy, still slightly insecure about sticking out and drawing attention.
· Mia: female, 20's. Riley's girlfriend, loving and perceptive.
APPLY HERE 
PRODUCTION 2: If Wishes Were Horses by Martine Delaney
A mystery/drama. In the wake of a family tragedy, a mother and daughter's relationship is tested as the daughter inexplicably gains supernatural powers.
·Jess: trans female, teens/early 20's. Good-willed but uncertain, as she navigates the complexities of transitioning and being all-powerful.
·Angie: female, deaf, over 35. Jess's mother. Intelligent and protective, still grieving the loss of her husband.
APPLY HERE 
PRODUCTION 3: Radical Honesty by Neilesh Verma and Suren Jayemanne
In this dark comedy, Rohan, sheltered and whitewashed, discovers what it means to be brown in Sydney, assisted by the street wise and hella brown Ganesh, his unsolicited cultural consult.
· Rohan: male, South Asian, 20's – 30's. Australian born with Sri Lankan parents, an aspiring comedian. Intelligent, charming and somewhat naïve.
· Sophie: female, 30's – 40's. Rohan's girlfriend. Older, refined, and upper-class.
· Ganesh: male, South Asian, 40's. Hardened, street-wise, a socialist. Mentoring Rohan in his cultural roots.
APPLY HERE. 
PRODUCTION 4: Bast by Rafeif Ismail
Speculative fiction. In a saga that spans space and time, three cousins navigate their fraught family history, while time-travellers and Djinn change their understanding of the world beyond recognition.
· Ayesha: female, Afro-Australian, 20's. The baby of the family, terrified of 'adulthood', the stereotypical #carefreeblackgirl.
· Dana: female, Afro-Australian, 20's. The love interest, reliable, responsible, always keeping Ayesha out of trouble.
· Maha: female, 20's – 30's. A Djinn, and a cursed prophetess. She crossed into a portal that has amplified her powers at the cost of her sanity. In her time amongst humans she has become fond of earth (and Dana).
APPLY HERE. 
PRODUCTION 5: Biting Dust by Rhianna Malezer
Orphaned and living with her headstrong Nan, Tamika's brain must be filled with colourful fantasies and tongue-in-cheek humour, but her reality is full of unresolved trauma. As Nan's health deteriorates and questions of the past are left unanswered, Tamika sets out on a quest to uncover deeply buried family secrets.
·Tamika: female, Indigenous, 20's. A daydreamer, cheeky, deeply uncertain about her own identity. Real sense of tongue-in-cheek humour.
· Nan: female, 60's – 70's. Loving and generous, but easily frustrated or irritable. Shares a deep bond with Tamika. As her health deteriorates some of her past thinking returns, much to Tamika's distress.
APPLY HERE. 
Applications close midnight AEDT Friday June 4.
If you have any queries please contact Screen Diversity Showcase Coordinator James Sherley: james.sherley@equityfoundation.org.au
The Screen Diversity Showcase 2021 is proudly supported by the Equity Foundation, Screen Australia, MEAA, Australian Writers' Guild,Australian Directors' Guild, Showcast, Sydney Actors School and Casting Guild of Australia.

The Equity Foundation acknowledges that the Diversity Showcase will take place on the stolen land of the Gadigal people, and that sovereignty was never ceded.