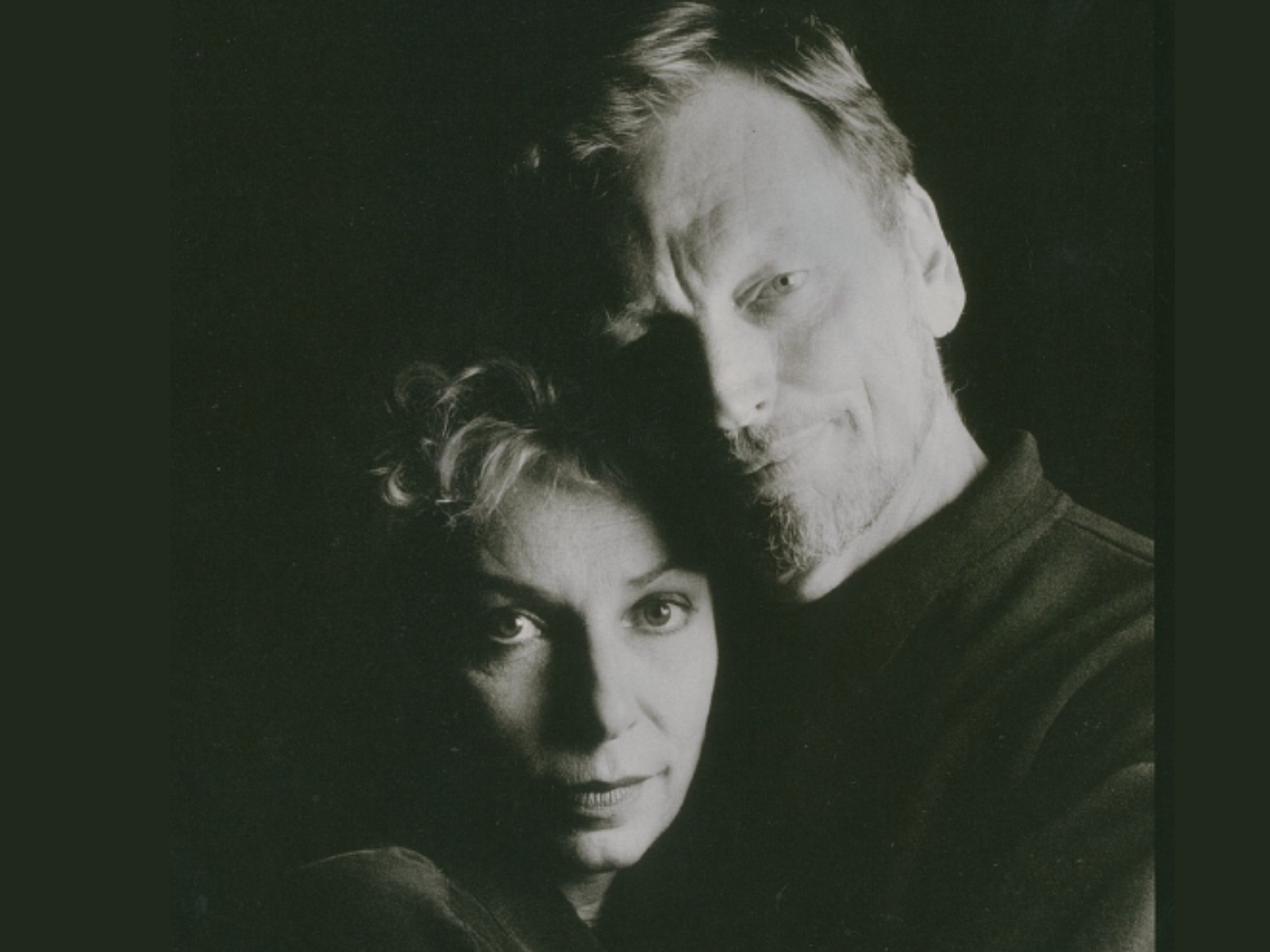 The Equity Foundation is delighted to announce that John Bell and Anna Volska are joint recipients of the 2021 Equity Lifetime Achievement Award.
Anna and John were selected by performer representatives on Equity's National Performers Committee, who praised their unique contribution to Australia's cultural landscape, their unwavering commitment to improving the livelihood of Australian artists, as well as the influential role they have played in shaping the careers of many of their fellow performers.
Equity President Jason Klarwein says they were overwhelming popular nominees, with few Equity members untouched by their contribution to the industry. "Anna and John have been nominated for this award time and time again. They have touched the lives of so many Equity members, whether we have worked with or for John and Anna, had their support on hand for Equity campaigns and initiatives, sat in the audience during one of their remarkable productions or benefited from their involvement in the Actors Benevolent Fund. I cannot think of more worthy recipients of this award."
Award-winning actor, acclaimed director, and passionate educationalist and unionist, John Bell has been a key figure in shaping the nation's theatrical identity as we know it over the past 50 years. After graduating from The University of Sydney in 1962, John worked for the Old Tote Theatre Company, all of Australia's state theatre companies and was an Associate Artist of Britain's world-famous Royal Shakespeare Company. As co-founder of Sydney's highly influential Nimrod Theatre Company, Bell presented many productions of landmark Australian plays. In 1990, Bell took on an even greater challenge, founding The Bell Shakespeare Company, ensuring Shakespeare's work lives and breathes in theatres, schools and communities throughout Australia.
Anna Volska has enjoyed a stellar career as a stage and screen actress, and theatre maker. After graduating from NIDA Anna spent two years at the Old Tote Theatre Company, followed by three seasons with the Royal Shakespeare Company. Anna was a co-founder of both the Nimrod Theatre and Bell Shakespeare, where she has directed and performed in many acclaimed productions. Anna has also appeared in many Australian television drama series including The Godfathers, A Town Like Alice, A Country Practice and All Saints.
"Anna and I are honored to accept the Equity Lifetime Achievement Award," John says. "We have been proud members of Equity since we first trod the boards together in 1963. Equity has always been a home base for performers in Australia – a meeting place and source of information and support. The Actors Benevolent Fund is a humane extension of the union's basic function. The last two years of the COVID pandemic have had a devastating impact on our industry and never have we been more in need of a strong union to protect artists' livelihood and welfare. We are proud of our Equity – long may it prosper."
Equity members have shared their own thoughts about why Anna and John are worthy recipients of the Equity Lifetime Achievement Award.
Drew Forsythe: "In 1969 Robin Lovejoy, the artistic director of the Old Tote Theatre company, told a group of us that John Bell and Anna Volska would be returning to Sydney after several years at the RSC and that that they would be working with the company. Who, I thought? I had no idea at the time what a difference they would make, not only to my life, but to the life of theatre in Sydney. Fifty-odd years later it seems fitting to honour them for their amazing contribution."
Peter Carroll: "We would be lost without Anna and John. They have led and nurtured our theatre family these many years I cannot imagine our world without them. They must live and thrive forever!"
Robyn Nevin: "John Bell represents all that is fine about Australian acting; his aspiration for a Shakespearian theatre experience for Australian audiences, which he realised as Bell Shakespeare, has entertained, inspired, educated and delighted students and adults across the nation. John and Anna together have been an influential force in our country and have earned the love and respect of all who know them."
Sean O'Shea: "I first met John and Anna over thirty years ago when John was auditioning actors for a new Shakespeare company. I was invited to their home to read a few scenes with John. I was terrified but they both made me feel welcome. Over the years they have championed and nurtured the early careers of countless actors. I know literally scores of successful actors who would count an early association with Bell as one of the reasons they were able to develop and survive as artists. The industry owes both John and Anna a great debt. I am also indebted to them both for the friendship and support they have afforded me over the years. I am delighted they are receiving the Lifetime Achievement award. I could not think of worthier recipients."
Annie Suttor: "John Bell is indeed a national treasure. Bell Shakespeare extends far beyond the footlights, into schools, the Outback and even providing workshops for young people who spend much of their time caring for an ill or disabled family member, giving them an opportunity to explore their own creativity. John Bell and his colleagues have been responsible for establishing the theatres we now treasure in Sydney as ongoing platforms for new and innovative, as well as classic productions."
Susan Prior: "His body of work and passion for Shakespeare knows no bounds. He has brought the bard to thousands of school children around Australia and helped in inspiring their love of language. In this world of Facebook and the internet this is no mean feat."
Lucinda Armour: "John and Anna are directors, actors and teachers with a vast wealth of experience and have been instrumental in fostering an authentic Australian style. They are, and always have been, a power couple and champions of live performance."
Peter Evans, Artistic Director of Bell Shakespeare, says the contribution of John and Anna to our artform and industry is immeasurable: "Even before the formation of Bell Shakespeare the establishment of Nimrod, and that company's influence on new Australian work and the Australian 'voice' in classical texts alone would warrant this acknowledgement. With the establishment of Bell Shakespeare John changed the shape of our industry for the better. Anna's contribution on stage, and offstage, should never be underestimated. The company was a bold and ambitious undertaking that involved the total commitment of both of them along with a dedicated team of artists, administrators, crew and donors. The culture formed around this endeavour is central to the company's success today, 31 years later. A culture of generosity, curiosity, enthusiasm, and care that John and Anna embody. I cannot think of a couple, indeed a family, that has influenced so many of us and I congratulate John and Anna and the Equity Foundation on this wonderful award."
The Equity Lifetime Achievement Award was established in 2009 to honour the achievements of leading Australian performers who have had a distinguished career and been an inspiration to other Australian performers. Past recipients include Peter Carroll, late Bob Hornery, Maggie Dence, late Ron Haddrick, Jill Perryman, Kevan Johnston, Toni Lamond AM, Grant Page, Anne Phelan and Noeline Brown, Julia Blake and Terry Norris, Lillian Crombie and late Ningali Lawford-Wolf.
The 2021 Equity Lifetime Achievement Award is proudly supported by Media Super.