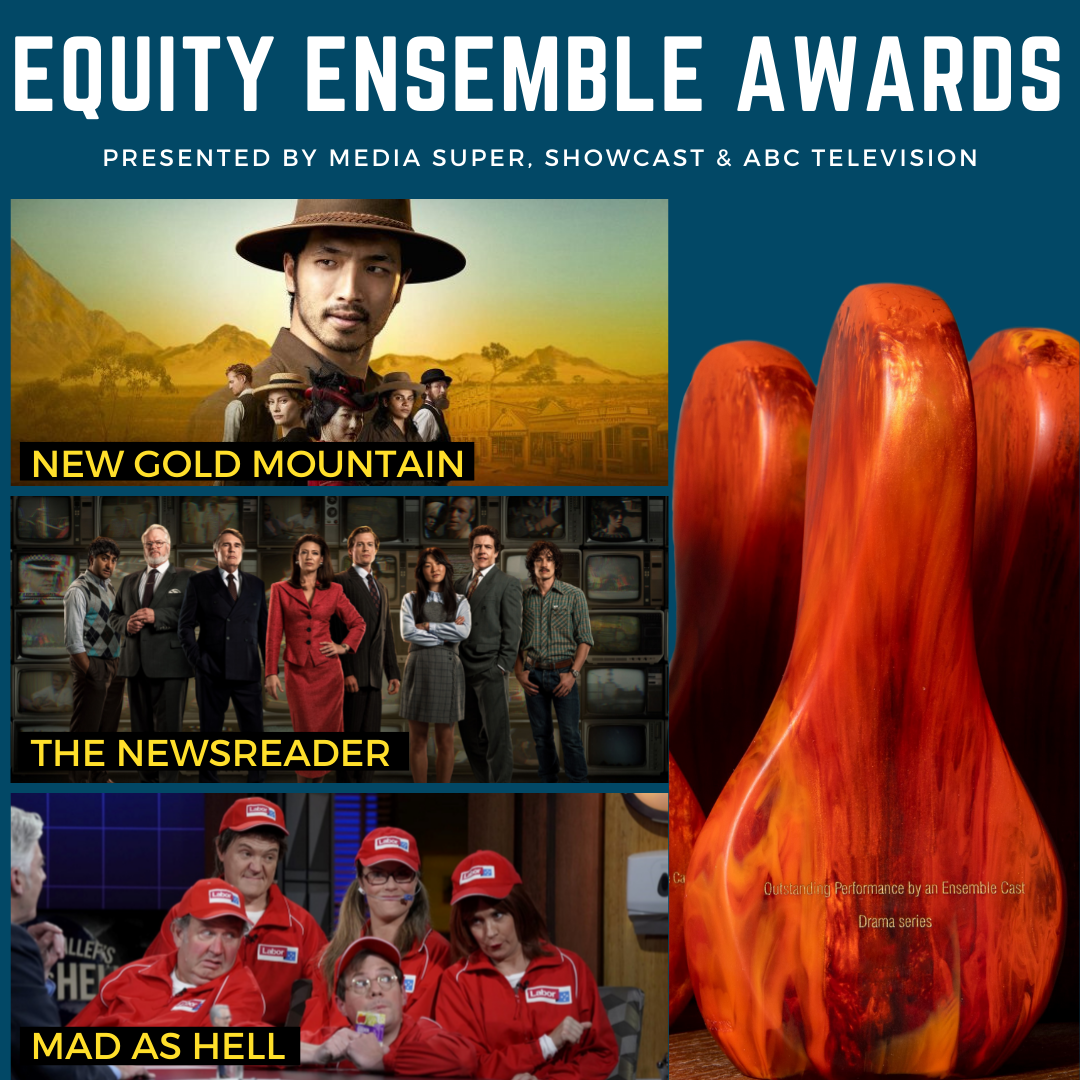 ABC TV's engrossing period drama The Newsreader, no-holds-barred news satire Mad as Hell and acclaimed SBS miniseries New Gold Mountain have won the 12th annual Equity Ensemble Awards.
The actors who starred in these three programs were recently voted the most outstanding Australian small screen ensembles in their respective categories by the MEAA Equity National Performers' Committee (NPC). Finalists were chosen by the MEAA Equity Screen Committee from 45 eligible Australian casts whose programs screened in the last 12 months.
The Equity Ensemble Awards were established in 2011 to celebrate Australian stories and the Australian actors who bring them to life. These peer-judged Awards recognise the truly collaborative process that leads to great viewing and powerful storytelling.
Equity president Jason Klarwein says: "Equity is thrilled to honour the fine work of our members in these Australian screen productions. With a new Federal Government in place, we as an industry have a unique opportunity to campaign vigorously for more support for our screen industry so shows like these continue to get made, Australian actors continue to work and hone their craft and Australian audiences can see their own stories and hear their own voices on every platform".
Of Miniseries winner, New Gold Mountain, the judges said: "The cast of New Gold Mountain don't just draw you into the show's rich world – they are its world. Anchored by a charismatic Yoson An and featuring a diverse array of standout performances, this is a perfectly cast team that makes 1850s Ballarat feel real, lived in, and dangerous. Crucially, everyone's performances hint at secrets and hidden depths – the key to making this murder mystery wrapped up in a Western work so well".
Of Comedy winner, Shaun Micallef's Mad as Hell, the judges said: "The Mad as Hell team have been producing this quietly exceptional work for 10 years. This cast is the epitome of an ensemble and this is work we can all aspire to. The ensemble cast are all, in the main, actors by trade. It's clear they have had many years and a supportive environment to hone their craft and comedic skills. Mad as Hell is a weekly scripted comedy show with consistently, exceptionally well-written scripts every season; an extremely difficult thing to do when the political landscape is at times crazier than anything an ensemble can come up with … they respond so effectively to our political times and have been doing so for many years."
Of Drama winner, The Newsreader, the judges said: "This cast was an ensemble in the truest sense of the word; every character was strong no matter what size the role, working together as a tight knit unit, with brilliant performances across the board. An immensely enjoyable and watchable show that accurately reflected the cultural and political landscape in which it was set".
The Equity Foundation warmly congratulates all finalists and winners. An awards ceremony will be held in June in Melbourne.
OUTSTANDING PERFORMANCE BY AN ENSEMBLE IN A MINI-SERIES/TELEMOVIE 2022
This award is proudly sponsored by Showcast
NEW GOLD MOUNTAIN (Goalpost Pictures/SBS)
Cast members: Yoson An, Alyssa Sutherland, Christopher James Baker, Sam Wang, Mabel Li, Chris Masters Mah, Leonie Whyman, Rhys Muldoon, Alison Bell, Dan Spielman, Travis Cotton, Maria Angelico, Paul Ireland, Sebastian Li.
Finalists
New Gold Mountain (Goalpost Pictures/SBS)
The Unusual Suspects (Aquarius Films/SBS)
Australian Gangster (Roadshow Rough Diamond/Seven)
OUTSTANDING PERFORMANCE BY AN ENSEMBLE IN A COMEDY SERIES 2022
This award is proudly sponsored by ABC Television
SHAUN MICALLEF'S MAD AS HELL (ITV Studios Australia/Giant Baby Productions ABC)
Cast members: Shaun Micallef, Francis Greenslade, Emily Taheny, Tosh Greenslade, Stephen Hall and Christie Whelan Brown
Finalists:
Fisk (Vincent Sheehan, ABC)
Mad as Hell (ITV Studios Australia/Giant Baby Productions ABC )
Why Are You Like This (CKOL/ABC/Netflix )
OUTSTANDING PERFORMANCE BY AN ENSEMBLE IN A DRAMA SERIES 2022
This award is proudly sponsored by Media Super
THE NEWSREADER (Werner Film Productions/ABC)
Cast members: Anna Torv, Sam Reid, Robert Taylor, William McInnes, Michelle Lim Davidson, Chum Ehelepola, Stephen Peacocke, Marg Downey, Chai Hansen, Maude Davey, Jackson Tozer, Maria Angelico.
Finalists:
The Newsreader (Werner Film Productions/ABC)
Wakefield (Jungle Entertainment/ABC)
Love Me (Aquarius Films/Binge).
The Equity Foundation thanks ABC TV, Showcast and Media Super for their support of the Equity Ensemble Awards 2022.