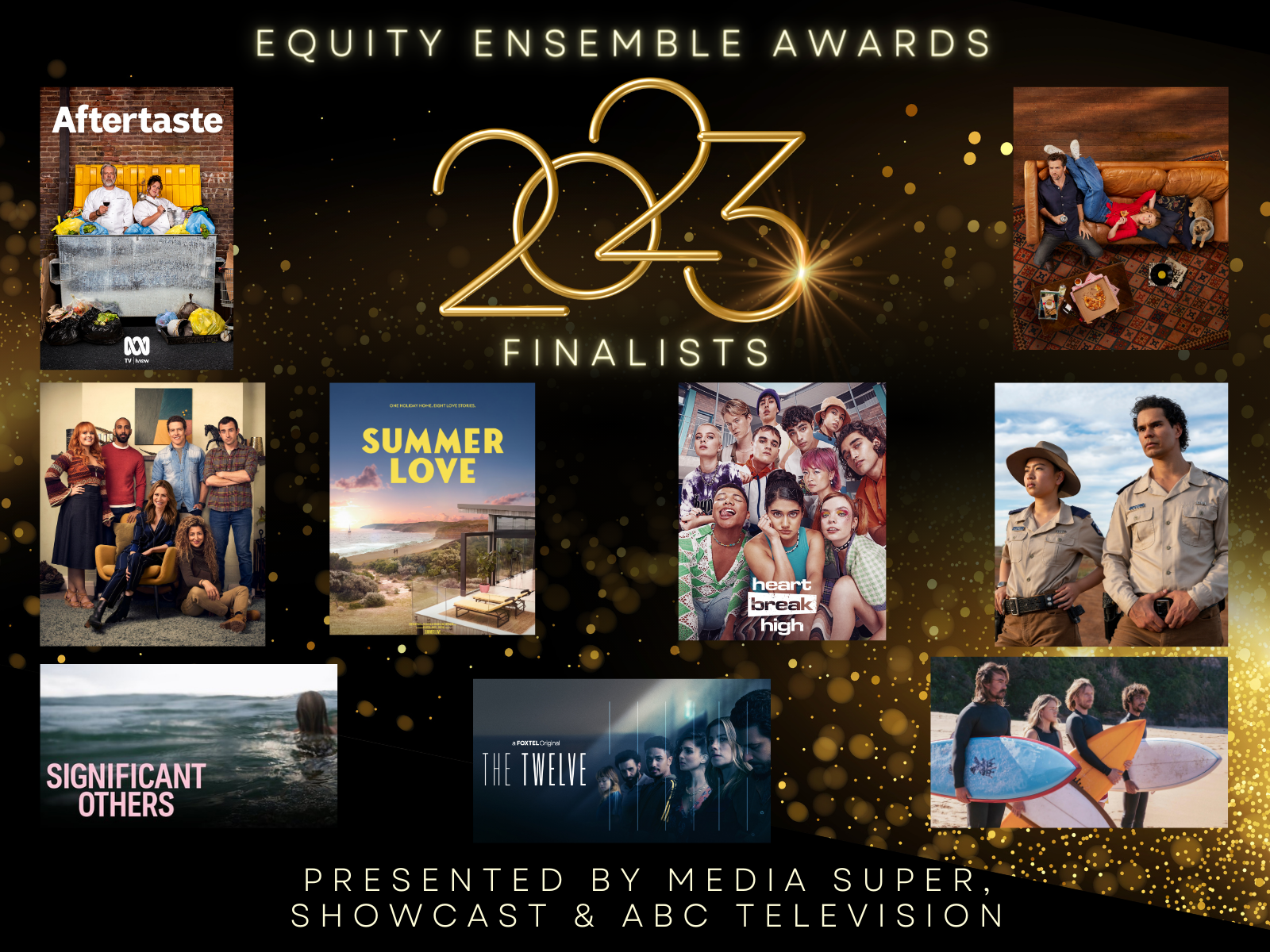 Congratulations to the actors who are finalists in the Equity Ensemble Awards for their work on Australian drama, comedy and miniseries programs that aired in 2022.
The Ensemble Awards honour outstanding performances by Australian small screen ensembles and recognise the truly collaborative process that leads to captivating viewing and powerful storytelling.
Since 2011 these awards have been a celebration of local talent and local stories, and a reminder of what's at stake if we don't vigorously defend Australian content on our screens.
2023 FINALISTS
DRAMA:
Five Bedrooms – Series 3 (Paramount +)
Kat Stewart, Stephen Peacocke, Doris Younane, Katie Robertson, Roy Joseph, Johnny Carr
Heartbreak High (Netflix)
Ayesha Madon, James Majoos, Chloe Hayden, Asher Yasbincek, Thomas Weatherall, Will McDonald, Josh Heuston, Gemma Chua-Tran, Bryn Chapman Parish, Sherry-Lee Watson, Brodie Townsend, Chika Ikogwe, Rachel House
Mystery Road: Origin (ABC1)
Mark Coles Smith,  Tuuli Narkle, Daniel Henshall, Toby Leonard Moore, Steve Bisley, Salme Geransar, Clarence Ryan, Hayley McElhinney, Kelton Pell, Lisa Flanagan, Caroline Brazier, Grace Chow, Serene Yunupingu, Jayden Popik, Leonie Whyman
COMEDY:
Aftertaste – Series 2 (ABC1)
Erik Thomson, Natalie Abbott, Wayne Blair, Susan Prior, Rachel Griffiths, Remy Hii, Kavitha Anandasivam, Justin Amankwah, Lynette Curran, Julian Maroun, Syd Brisbane, Chrissie Page
Colin from Accounts (Binge)
Harriet Dyer, Patrick Brammall, Emma Harvie, Helen Thomson, Genevieve Hegney, Michael Logo, Tai Hara
Summer Love (ABC1)
Patrick Brammall, Harriet Dyer, Stephen Curry, Sibylla Budd, Miranda Tapsell, Richard Davies, Nazeem Hussain, Sana'a Shaik, Tim Draxl, Harry McNaughton, Chenoa Deemal, Bjorn Stewart, Robyn Butler, Wayne Hope, Alison Bell, Annie Maynard, Morgana O'Reilly, Johnny Carr, Charlotte Maggi, Keith Robinson
MINI-SERIES:
Barons (ABC1)
Ben O'Toole, Jillian Nguyen, Sean Keenan, Hunter Page-Lochard, Sebastian Tang, Lincoln Younes, Sophia Forrest, George Pullar, Karina Banno, Stephen Hunter, Coco Jack Gillies, Megan MacKenzie, Catherine Văn-Davies, Rasmus King, Kick Gurry
Significant Others (ABC1)
Rachael Blake, Alison Bell, Zoë Steiner, Gulliver McGrath, Todd McKenney, Kenneth Moraleda, Jacqueline McKenzie, Anastasia Bampos, Diana Popovska
The Twelve (Showcase)
Sam Neill, Kate Mulvany, Marta Dusseldorp, Hazem Shammas, Brooke Satchwell, Ngali Shaw, Pallavi Sharda, Brendan Cowell, Catherine Văn-Davies, Damien Strouthos, Hamish Michael, Matt Nable, Jenni Baird, Coco Jack Gillies, Lee Robinson
The winners will be selected by the National Performers' Committee and announced at an awards ceremony later this year.
The Equity Ensemble Awards are proudly supported by Media Super, Showcast and ABC TV.