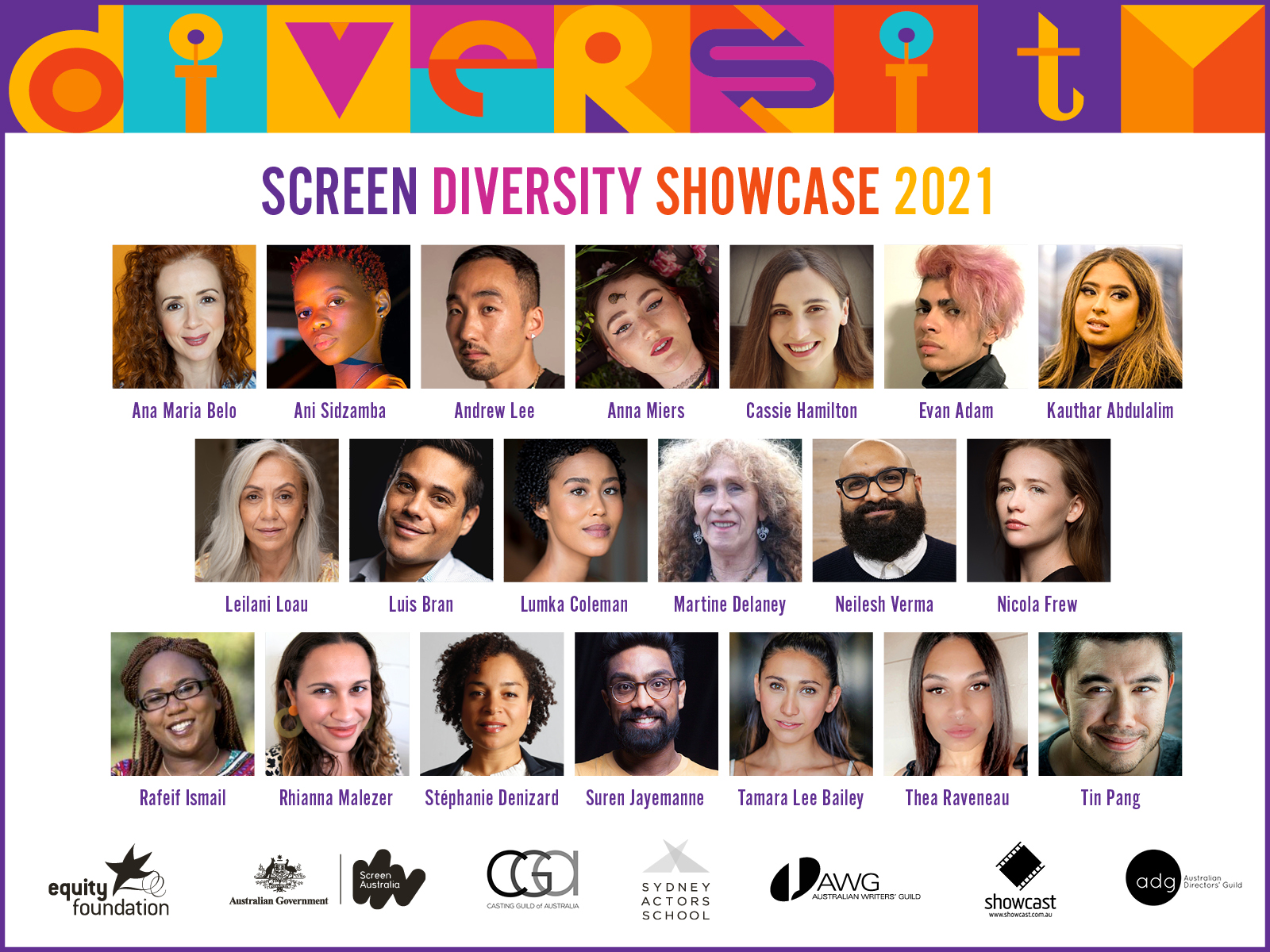 The performers, writers and directors who will participate in the 2021 Screen Diversity Showcase have been selected by a series of independent industry judging panels from an impressive field of applicants.
The Screen Diversity Showcase is a chance for emerging talent to be uncovered, mentored, nurtured and exposed to those who make decisions about what ends up on our screens. More than 450 applications were received.
The Showcase judges say they were astounded by the extraordinary level of talent from applicants. "We truly valued the opportunity to watch all their work. There were so many wonderful actors bringing the scripts to life and we were especially blessed to hear the actors' life stories and why they wished to have this opportunity. It was so special and inspiring to be a part of this process".
The judges encourage everyone that entered the Showcase to keep following your dreams. "Perseverance is vital in this industry. We loved watching your tapes. Every audition and self tape you do is an investment in your future. We all very much look forward to casting actors who entered the Screen Diversity Showcase in future productions".
The selected creatives will collaborate on five distinct projects, all to be filmed as five-minute proof of concepts. The program will culminate with all participants being flown to Sydney to film and edit their projects, before exhibiting them at the Showcase event at the Sydney Actors School later this year, attended by the key decision-makers in Australian screen industry.
MEAA Equity president Jason Klarwein says it is an honour to shine a spotlight on some of the incredible emerging artists we have in this country. "I know it was a rigorous judging process and the selected applicants are immensely talented. I cannot wait to see what they produce during this uniquely collaborative program. MEAA's is deeply committed to ensuring our stages and screens reflect the world we live in. The Diversity Showcase is one of the many ways we are fostering genuine inclusion within our industry."
Susie Hamilton, Australian Writers' Guild Professional Development Manager, says the AWG is delighted to be partnering with Equity on this important initiative. "We are very excited to see the calibre of creatives chosen for this year's Showcase".
Australian Directors' Guild Executive Director, Alaric McAusland, says: "Giving voice and opportunity to our emerging diverse screen practitioners is a vital component in the development of storytelling that truly reflects our diverse culture and ensures that all Australians get to see themselves reflected on screen. We are particularly excited by the breadth of talent evident in the directors, writers and performers participating in this year's Showcase, and we can't wait to see where this unique opportunity will take them in their careers."
The 2021 Screen Diversity Showcase participants
Bios follow. 

Writers
Rhianna Malezer
Suren Jayemanne
Neilesh Verma
Martine Delaney
Anna Miers
Rafeif Ismail

Performers
Suren Jayemanne
Neilesh Verma
Nicola Frew
Evan Adam
Tamara Lee Bailey
Leilani Loau
Thea Raveneau
Ani Sidzamba
Lumka Coleman
Stéphanie Denizard
Cassie Hamilton
Ana Maria Belo

Directors
Tin Pang
Andrew Lee
Kauthar Abdulalim
Luis Bran
Rhianna Malezer
Ana Maria Belo is one of Australia's most versatile performers, having appeared on screen and stage, both mainstream and independent. She is also a gifted writer and director whose short films have won awards on the festival circuit. Ana Maria is deaf and an advocate for accessibility, as well as a proud ambassador for the Shepherd Centre.
Andrew Lee is a queer, Australian-born Korean director, writer, producer and production designer. After graduating from UTS and AFTRS Andrew received multiple awards and nominations for his work. Andrew currently has a few projects in development, and is working in the writers' rooms of multiple others.
Ani Sidzamba is a South-African born Sydney Drag King known as Malcolm XY. Their drag focuses on centering Queer Black Excellence and encourages BIPOC visibility in Queer spaces. Ani has showcased their love for performance through storytelling and movement on various stages around Sydney and Melbourne.
Anna K. Miers is a Northern Territory-based documentary filmmaker, presenter, and writer focused on human and environmental rights.
Cassie Hamilton is a transgender performer and playwright based in Sydney. She began acting training at a young age and has since taken on roles as a performer and director on various productions. She has always had a passion for telling stories through live performance and investigating less commonly explored parts of the queer experience.
Evan Adam is a young transgender illustrator and actor from Western Sydney. He has practised illustration from a young age and has a passion for entertainment. Since graduating high school he has continued to pursue the arts, and strives to inspire people to take pride in their identity.
Kauthar Abdulalim is an Australian writer/director with East-African and South-Asian heritage. Kauthar won the BMW Short Film Competition at the 2018 Indian Film Festival of Melbourne and graduated from Film Victoria's Story Lab initiative. Kauthar has a web series in development and has founded her own production company, Blacksand Pictures.
Leilani Loau is a Sydney-based actor, born and raised in New Zealand with Samoan, European and Asian heritage. Leilani has worked in multiple theatre productions and short films and has trained with some of Australia's leading performers.
Luis Bran is a Salvadorian-Australian director, with several short films, music videos and digital content projects under his belt. Since his debut in 2018 he has turned his focus towards larger projects including television and feature.
Lumka Coleman is an Afro-Australian actor originally from South Africa, and an alumnus of the Atlantic Acting School, New York. As a performer Lumka seeks to amplify voices outside of our traditional canon and in life, and to form connections that intersect class, gender and sex.
Neilesh Verma is a Sydney-based writer, director, former stand up comedian and sometimes actor. He is often heckled by children who mistake him for a broke Rick Ross.
Nicola Frew is a performer with a passion for exploring Australian storytelling with her most recent credits including I Am Woman, The Daughter, Black Comedy and Redfern Now. For Playwrighting Australia Nicola has worked on the development of multiple stage productions, and has trained with leading coaches in the US and Australia.
Martine Delaney is a skilled writer and LGBTIQ+ advocate based in Tasmania, who is currently developing multiple documentary, educational and drama projects. Martine's career outside of screen has included stand up comedy, community development and running for federal politics.
Rafeif Ismail is an award-winning emerging multilingual Sudanese storyteller and editor based in Boorloo (Perth).
Rhianna Malezer is a proud Butchulla and Kamilaroi writer and director based in Meanjin (Brisbane). Rhianna began her screen career in the art department, working on various productions such as Thor: Ragnarok, The Voice and Black Comedy. Rhianna became a writer on Black Comedy, and is currently in pre-production of her first short film directorial debut.
Stéphanie Denizard is a Sydney-based, Haitian Canadian/Australian multilingual entertainer. She is a professional singer-songwriter, radio host, and producer who performs with the stage name A. She is passionate about acting, dancing, and sharing her multicultural heritage.
Suren Jayemanne is a comedian, writer and actor. While not himself an industry darling, he fairly regularly plays squash with some, making him industry darling adjacent.
Tamara Lee Bailey is a Filipino-Australian multi-disciplinary artist. Tamara graduated with a bachelor degree in acting from VCA and has performed in a diverse range of roles for theatre and film. She has a martial arts and contemporary dance background and is a vocalist in an all-female vocal ensemble.
Thea Raveneau is a proud Aboriginal and Transgender woman, currently in her second year of Acting at QUT. Thea aspires to create work that gives a voice to the voiceless.
Tin Pang is a graduate from Griffith University and QCA and has undertaken development initiatives in the US through Universal Studios. His short film The Pale Moonlight premiered at the Fantasia International Film Festival in Montreal and his successive short films have continued to win awards at major international film festivals.
If you have any queries please contact Screen Diversity Showcase Coordinator James Sherley: james.sherley@equityfoundation.org.au