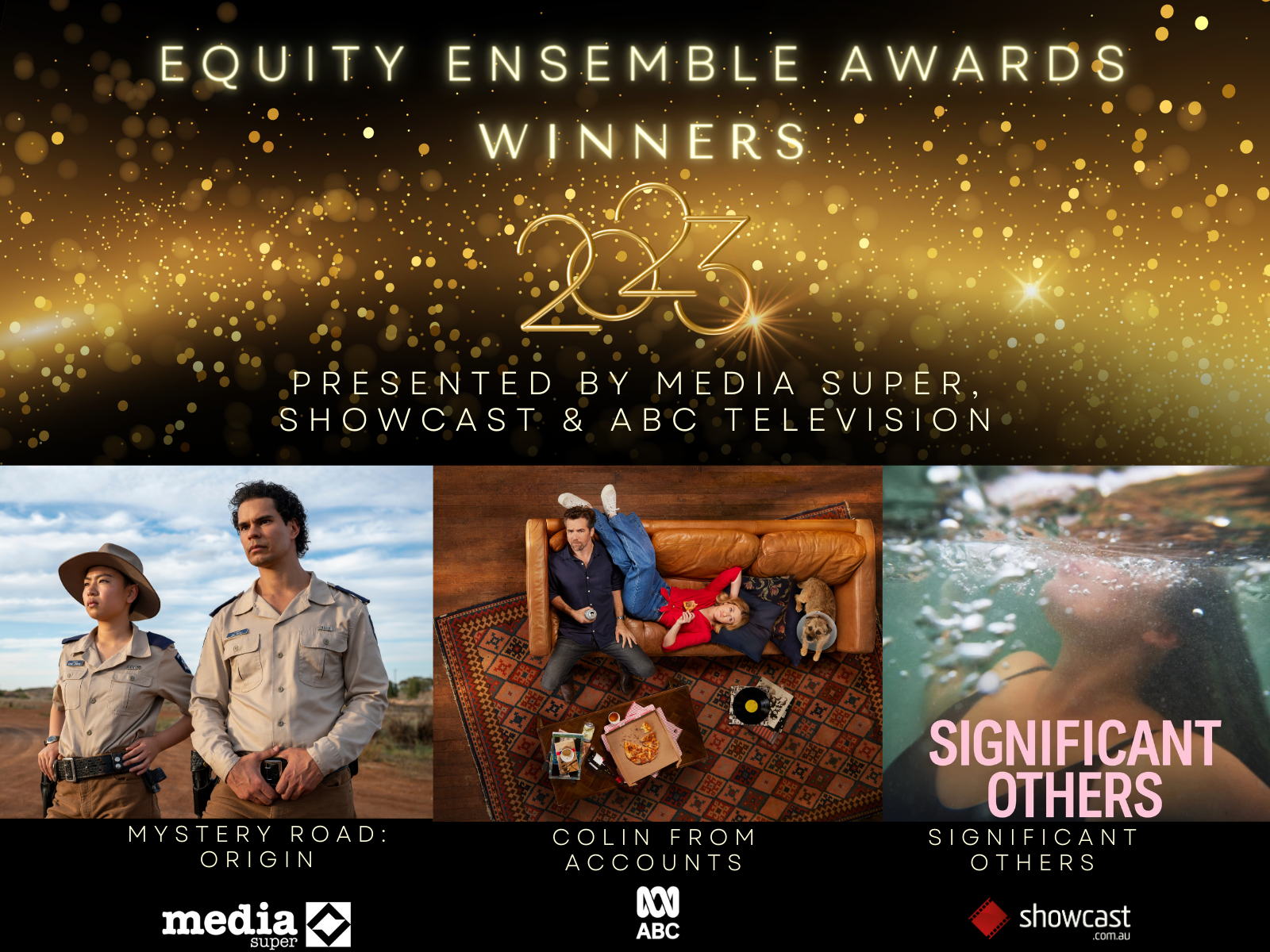 An acclaimed prequel that delves into the early years of Detective Jay Swan, a charming Aussie comedy about two single(ish) people brought together by an injured dog, and a riveting ABC miniseries that follows a family struggling to piece together their lives after a loved one vanishes have won the 12th annual Equity Ensemble Awards.
The Equity Ensemble Awards were established by the Media, Entertainment & Arts Alliance's Equity Foundation in 2011 to celebrate Australian stories on the small screen and the Australian actors who bring them to life.
The winning casts and finalists were honoured at an awards ceremony at the Sydney Theatre Company tonight attended by more than 200 members of the Australian arts and entertainment industry.
Of Drama winner, Mystery Road: Origin, the judges said: "Mystery Road has an amazing ensemble cast who all get the opportunity to shine because of an incredibly well-developed script and well-made show. The cast is diverse in age range and industry experience, but they all come together to create a cohesive and rich story world."
Of Comedy winner, Colin From Accounts, the judges said: "Not only is the writing excellent from this dynamic duo, but all the actors blend well together to create a very tight ensemble. Each character adds great depth to the narrative with no one there just for the sake of it. The supporting actors and the leads formed a cohesive unit and the series was richer for it. Most importantly, we found ourselves laughing out loud throughout!"
Of Miniseries winner, Significant Others, the judges said: "The character journeys are clear and the effects each character has on the ensemble is layered with complexity and depth as is typical in a great production. The cast is diverse and subtly explores the internal and external struggles these characters face, including the daily stereotypes they endure. This show doesn't explore diversity for diversity's sake, but for our own deeper understanding of others."
Hosted by the Equity Foundation, tonight's awards ceremony was also a chance to honour this year's recipient of the Equity Lifetime Achievement Award, announced in March, legendary Australian stunt performer Chris Anderson. Chris has contributed his talent and expertise to more than 100 screen productions. Since his official grading as a stunt coordinator in 1982, Chris has spent the last 40 years mentoring and training countless stunt performers through all stages of their careers, with many now representing Australia on the global stage.
The Equity Foundation warmly congratulates all finalists and winners and thanks our sponsors, Media Super, ABC TV, Showcast and MEAA.
OUTSTANDING PERFORMANCE BY AN ENSEMBLE IN A DRAMA SERIES
This award is proudly sponsored by Media Super
MYSTERY ROAD: ORIGIN (BUNYA PRODUCTIONS/ABC 1)
Mark Coles Smith, Tuuli Narkle, Daniel Henshall, Toby Leonard Moore, Steve Bisley, Salme Geransar, Clarence Ryan, Hayley McElhinney, Kelton Pell, Lisa Flanagan, Caroline Brazier, Grace Chow, Serene Yunupingu, Jayden Popik, Leonie Whyman.
Finalists:
Five Bedrooms – Series 3 (Paramount +)
Heartbreak High (Netflix)
Mystery Road: Origin (ABC1)
OUTSTANDING PERFORMANCE BY AN ENSEMBLE IN A MINI-SERIES/TELEMOVIE
This award is proudly sponsored by Showcast
SIGNIFICANT OTHERS (FREMANTLE/ABC1)
Rachael Blake, Alison Bell, Zoë Steiner, Gulliver McGrath, Todd McKenney, Kenneth Moraleda, Jacqueline McKenzie, Anastasia Bampos, Diana Popovska.
Finalists:
Barons (ABC1)
Significant Others (ABC1)
The Twelve (Showcase)
OUTSTANDING PERFORMANCE BY AN ENSEMBLE IN A COMEDY SERIES
This award is proudly sponsored by ABC Television
COLIN FROM ACCOUNTS (EASY TIGER/CBS STUDIOS/BINGE)
Harriet Dyer, Patrick Brammall, Emma Harvie, Helen Thomson, Genevieve Hegney, Michael Logo, Tai Hara.
Finalists:
Aftertaste – Series 2 (ABC1)
Colin from Accounts (Binge)
Summer Love (ABC1)
EQUITY LIFETIME ACHIEVEMENT AWARD 2023
This award is proudly supported by Media Super
Chris Anderson